About Oceania Helicopters
Oceania Helicopters Pukekohe Limited offers clients a full range of helicopter services. We are based in Drury and cover the greater Auckland, Franklin and North Waikato regions. We have been operating this base since 1993.
Our Chief Pilot Richard Stening has nearly 30 years flying experience in charter, agricultural and lifting work.
We are certified under the NZ Civil Aviation Authority (CAA) Safety Management System (SMS).
Our staff are Growsafe accredited to handle chemicals safely.
All of our gear is high tech using the latest spray and GPS technology and maintained to a very high standard. We have a purpose built fertiliser conveyor and topdressing bucket for efficient loading and targeted application.
We currently operate a Bell Longranger and have other machines available for contract if more helicopters are required such as frosts or large corporate groups.
Company Civil Aviation Authority (CAA) Certificates held:
Certified CAA Rule Part 100 (Safety Management System).
Certified CAA Rule Part 135 (Air transport, Charter Commercial Transport).
Certified CAA Rule Part 137 (Agricultural Operations).
Certified CAA Rule Parts 91 and 133 (Aerial work, survey, lifting, pest control, firefighting).
All helicopters are equipped with DGPS for precision applications.
SPRAYING and SPREADING
We offer a full range of helicopter spraying and spreading services. With almost 30 years flying experience, spraying and spreading fertiliser in the greater Auckland, Franklin and North Waikato regions. We are experienced across the full range of agricultural work and can recommend and supply chemicals for every job.
We operate using differential GPS for accurate placement of spray and fertiliser ensuring no pasture damage or striping.
For spraying we use a Carbon Fibre spray system and low drift nozzles for better placement of chemicals on target areas.
With a specialised bulk loading elevator system we can spread most fertilisers from either bulk trucks or bagged fertiliser. We have a carbon fibre bucket with controlled spinners for spreading fertiliser, seed and bait accurately onto target areas.
We can co-ordinate your complete job from advice on the best product to use, timing of application, supplying chemical and carting fertiliser, right through to application.
• Pasture spraying
• Crop Spraying
• Glasshouse cleaning
• Glasshouse white wash application and removal
• Shade Cloth spraying
• Fungicide Spraying
• Gorse, Thistle and Blackberry Spraying
• Spot Spraying
• Cricket baiting
• Orchard line stringing
• Seed Application
• Liquid Fertiliser application
• Solid Fertiliser application – Urea /Super phoshate /DAP /Granulated Lime /Fertiliser Blends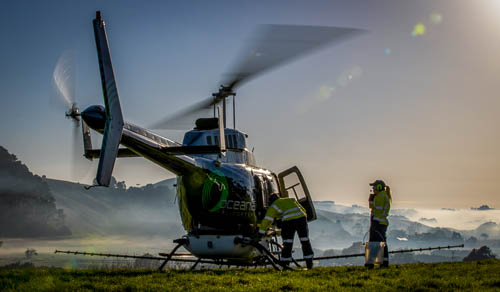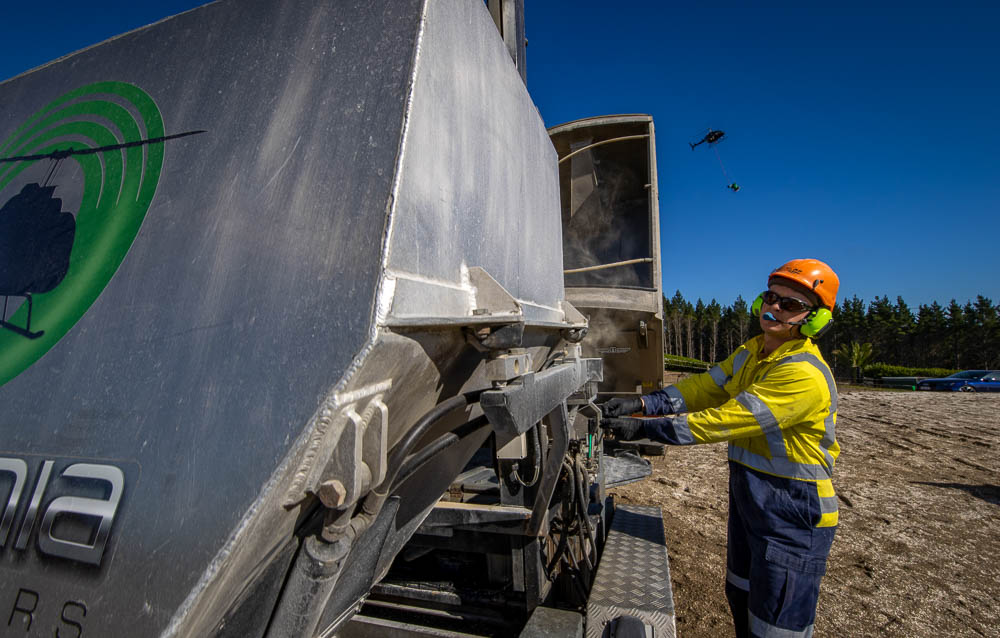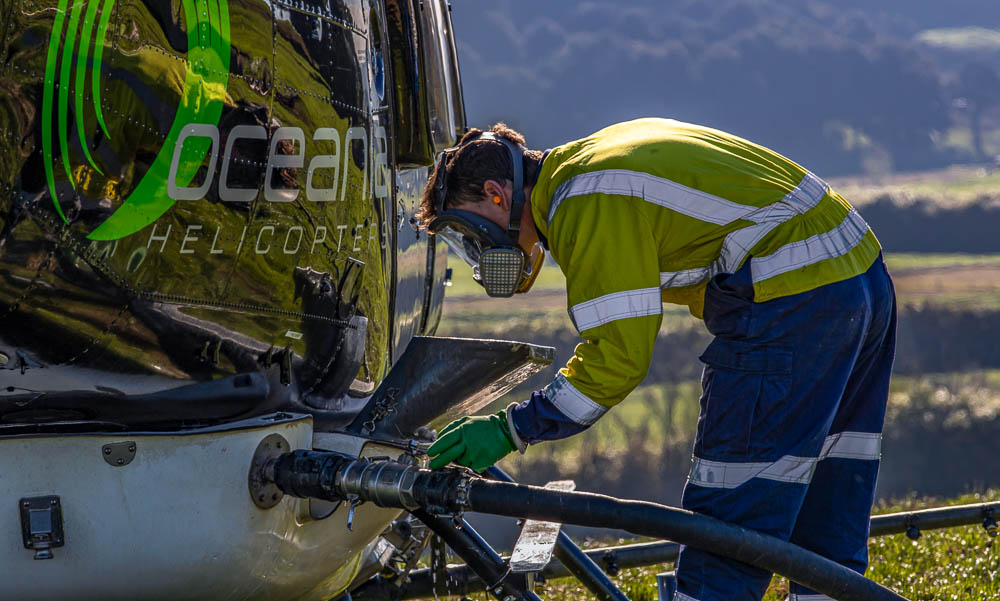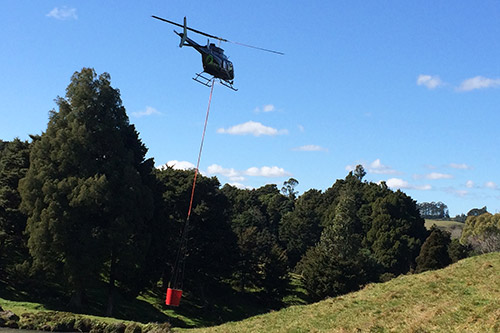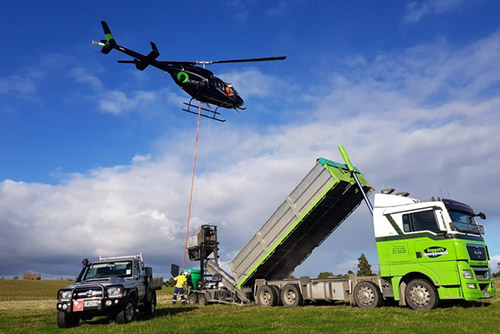 LIFTING
We supply all lifting gear including strops, longlines, nets, monsoon bucket and concrete buckets.  All lifting gear is certified annually and inspected prior to each job.
Water Tank Lifting
Fencing Materials
Power line construction and line stringing
Building Materials
Concrete pouring
Fire FIghting
FROST PROTECTION
We have the ability to look after any susceptible crops with a number of machines available.  Our pilots are experienced in maximising the orchard area and thermal layers for protection of your orchards.
SURVEY
Pipeline
Powerline
Forestry
Our helicopter is fitted with GPS and Spidertracks for monitored flight tracking.
Our pilot has almost 30 years experience flying in the greater Auckland, Franklin and North Waikato regions with excellent local knowledge of the area.
Group and corporate bookings
Heli Fishing trips to Great Barrier Island
Lodge / Vineyard / Golf Transfers
Scenic Tours.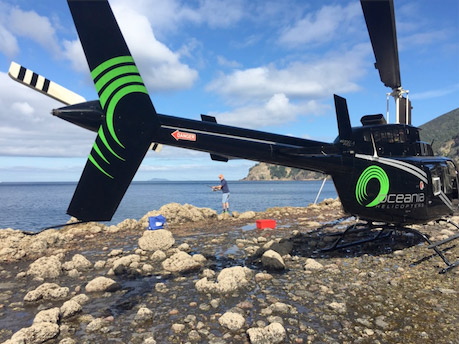 "Oceania Helicopters have been our preferred provider for the past twenty five years. Our operation requires monthly high-analysis fertiliser to be precision spread over the winter months. The co-ordination of application is necessary to ensure we gain maximum growth rates from the fertiliser application. "

Brian and Pirkko Gallagher

K Gallagher and Vepsa Farms Limited
"We have been using Oceania Helicopters on our dairy, beef and cropping operations in the South Auckland and Waikato regions for over 28 years. We have always found products to be applied safely, accurately, at the required rates and promptly. I would thoroughly recommend Oceania Helicopters to anyone who is after a service which is professional, reliable and efficient."

Scott Montgomerie

Orini Downs Station, Leyland Farming